Turn your LOVE for HEALTH and FITNESS into a home based BUSINESS!!
CLICK HERE to be on our team!
Q: What are some BENEFITS to being a coach?
•You are more likely to commit to your own personal health and fitness!
•You become a business owner (and all the tax benefits that come with it!)
•You can work from home (doing this part time or full time)
•You have unlimited income potential and build a residual income! (get paid even when you're not working)
•You receive 25% discounts on ALL Beachbody programs and products at any time!
** You are your OWN BOSS and run your business how you want. There are so many ways to turn this into a profitable business. If you want to work in a recession proof industry– health and fitness is the way to do it! All while inspiring the lives of those around you and helping others live a more healthy and fulfilling life!
Q: How do I become a Beachbody coach?
YOU can sign up to be a coach today, no matter where you are at in your fitness journey. Do you love fitness, helping others, and want to work from home? We are expanding our team and currently looking for self-driven, motivated, and passionate people.
CLICK HERE to be a coach on our team!
Q: Beachbody actually GIVES me customers?
YES! Just reach the basic rank advancement and maintain and active status, and you will receive customers in your database! Beachbody spends over $150 million dollars on infomercials and other forms of marketing and those leads go right to coaches who qualify.
Q: What is the Coach Business Opportunity?
A: It's an income opportunity that lets you work from home, helping others get physically and financially fit. In order to make money, all you have to do is let people know about Beachbody's best-selling line of products and help them choose the best ones for their goals. It's easy and extremely rewarding as you see people transform before your eyes!!
Q: How much does it cost to become a COACH?
A: The total cost to sign up as a coach is a ONE TIME fee of $39.95. That price includes a Business Starter Kit, your websites, and details on the opportunity itself. The only recurring fee is the $15.95 hosting fee for your website and ongoing training. That's it. Or– if you get a challenge pack (with a workout and Shakeology), the coach sign up fee of $39.95 is waived. Email me for details on this.
Q: How can I fit this in my daily life? I'm already busy!
If you are involved in fitness already, using Shakeology, or familiar with the workouts this will be MUCH easier for you! Chances are if you're using Shakeology and working out, people are ALREADY asking you how you got results! NOW, you'll have a way of earning commissions on the programs you've already been telling people about.
Q: What if I don't use Facebook or social media?
A: That's ok! You can still be a great Beachbody coach without social media. Many coaches have had great success with home parties, introducing the challenge packs and Shakeology. Other top coaches do free fit clubs for a more hands on approach. Remember, this is YOUR business, you grow it however appeals to you most!
Q: What if I am not at my goal weight or I don't know a lot about fitness?
A: This is an ONGOING journey to get healthy for each of us! As coaches, we aren't expected to know everything there is to know about health and fitness. Being a coach simply means that you are passionate about the area you're in and are helping others. As a coach, you are not expected to be a personal trainer, nutrition expert, or other health professional. All of the programs and nutrition guides have been designed by the experts. To be a good coach you simply have to be driven, health conscious, and ready to be your own boss. And ultimately, as a coach you are a distributor of health products and programs.
————————————————————-
I have decided to become a coach because it helps keep me on track with my personal fitness goals and allows me to inspire others along the way, doing what I love!!! You are the average of the people you are around the most. I have chosen to build my team of others who are PASSIONATE, POSITIVE, and MOTIVATED people who truly love to help others transform their health and their life!!!
CLICK HERE to be a coach on our team!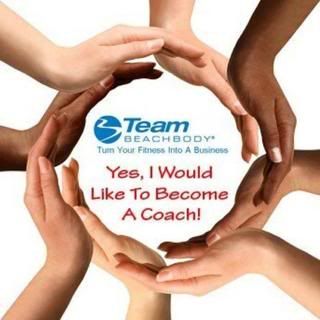 Check this article out about the Beachbody coaching opportunity and the Fitness industry
: http://www.nxtbook.com/nxtbooks/naylor/ERAM0512/index.php#/22