The TROPICAL VEGAN Shakeology is here!
THINK PINK!
By: Jamie Len Cumbo
With more vegetarians, vegans, and plant based eaters out there (including Tony Horton himself!), Team Beachbody has FINALLY come out with a VEGAN Shakeology, Tropical Strawberry.
This is going to be better than the previous formula, not only because it VEGAN, but also because this is now going to have all the necessary Whole Foods (and much more!) without any synthetic vitamins and minerals.
A few changes that go well beyond just the flavor.
Whole Food and Plant Based
Tropical Shakeology is VEGAN! That means no Animal products, dairy or any such derivatives! For folks who are Vegan and Vegetarian, this is going to be the best source of protein for you. It is also wheat and GLUTEN FREE!!!
What is the source of Protein now that WHEY has been taken out?
Protein Source is going to be Fermented Sprouted Brown Rice Protein. This is a completely Plant Based Protein. The Amino Acid profile is similar to Whey Protein Isolate. I am happy Soy Protein Isolate has not been used.
10 REASONS TO DRINK SHAKEOLOGY.
1. Reduce cravings
2. Build your immune system
3. Makes you feel full, longer
4. Increase energy levels and stamina
5. Promote regularity and healthy digestion
6. Lowers cholesterol
7. Improves mental clarity
8. Nourish your body with the super foods, probiotics, and nutrients/vitamins for optimal health
9. Makes your skin, hair, and nails healthy and strong
10. Did I mention LOSE WEIGHT and inches!???
For lots of answers to common questions about Shakeology, visit http://sweatyfitness.com/?page_id=1513
As you can see, Shakeology played a HUGE role in my transformation, and I continue to drink it everyday for a reason.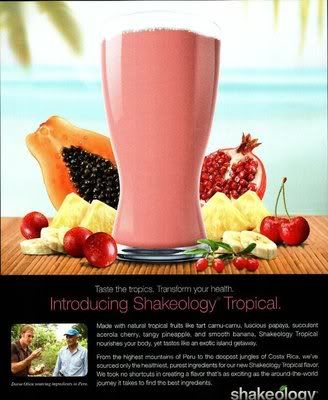 To ORDER go to: http://myshakeology.com/JamieLen