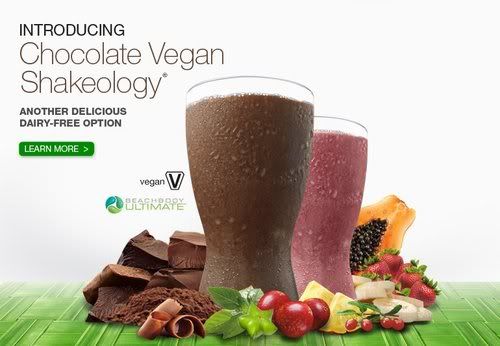 The Healthiest Meal of the day!! The new VEGAN CHOCOLATE SHAKEOLOGY is out!!
Introducing Chocolate Vegan Shakeology!
Shakeology is now available in two dairy-free flavors: Chocolate Vegan and Tropical Strawberry! Both are free from animal ingredients and formulated with a proprietary blend of plant proteins, and both taste unbelievably good!
The newest addition, CHOCOLATE VEGAN reawakens the rich, centuries-old flavor of true chocolate. Cacoa is harvested by hand from the pod, and dried by the sun. So you're tasting chocolate the way nature intended—with all its rare antioxidants and incredible health benefits intact. You'll also get the benefit of all the "bliss factor" endorphins triggered when you consume pure cacao.
What makes Chocolate Vegan and Tropical Strawberry so special?
• 100% dairy-free and therefore 100% lactose-free. This is especially important for people with dairy allergies or those who are lactose intolerant.
• A complete protein source. Crafted from an easy-to-assimilate blend of whole, plant-based proteins including sprouted brown rice, pea, sacha inchi, chia, flax, quinoa, amaranth, and spirulina. Not only do they offer 9 essential amino acids, but together they are a complete protein source with sufficiently high levels of lysine and methionine, two important amino acids that is often a limiting factor in plant-based diets.
• No added fructose.
• 5 NEW superfoods! Moringa, Coconut Flower Nectar, Luo Han Guo, Himalayan Salt and Konjac Fiber.
The health benefits of a plant-based diet are well documented. Replacing animal proteins with plant-based proteins helps you:*
• Lower your cholesterol
• Lower your risk for serious health issue
• Maintain a healthy weight
• Have fewer digestive issues
• Feel lighter and more energetic
BUY NOW at www.MyShakeology.com/JamieLen