Ready to get sweaty???
JOIN my next online SWEATY FITNESS CHALLENGE!!!! And get EXTREME results while you work out at home!
(It does not matter where you live, where you are at in your personal fitness journey, or what Beachbody program you want to do. The challenge is for ANYONE who is READY TO COMMIT to getting healthy! And I will help you through it!)
What is the Sweaty Fitness Challenge?
The Sweaty Fitness Challenge (also known as the $100K Beachbody challenge) combines a fitness program of your choice with a nutrition guide, an accountability group, and ME AS YOUR COACH!!
And if you need even MORE motivation…Beachbody is paying people to GET FIT and will give you a free t-shirt just for finishing the challenge!!
If you aren't sure what program you want to do, email me and I will be happy to help you pick the right one. There are lots to choose from (P90X, Insanity, TurboFire, SLim in 6, Power90, and many more!)
If you're interested in being in my next challenge group:
Email me at JamieLen99@gmail.com and let me know what your top 3 fitness goals!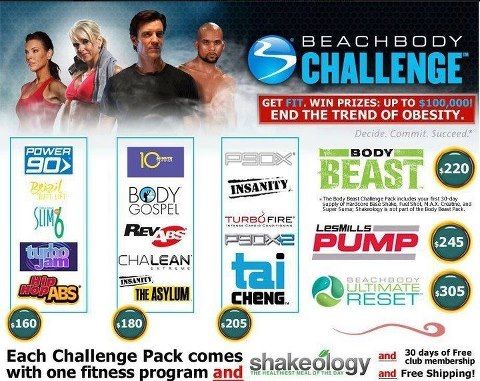 To learn more about the WORKOUTS or to buy a challenge pack and reserve your spot in my next challenge group
1. Go to http://beachbodycoach.com/JamieLen
2. Click on the right hand side of the page where it says "TAKE THE CHALLENGE. $100k Beachbody Challenge"
3. Choose a workout program and commit to take the challenge
4. Pick your challenge pack and I will help you through it, for free!
5. After you get your pack, email me and let me know you're READY TO GET SWEATY!!!
"DECIDE………….COMMIT……………SUCCEED!!!!"