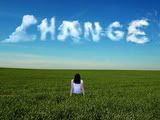 Anybody can change once they decide they want to. But, making lifestyle changes permanent can be more difficult. The good news is that it doesn't have to be that way! And this journey to health isn't about a temporary fix, it's about making those changes stick around for the long haul.
Have you ever made big changes in your life only to find those old habits slowly creeping back into your life? That's ok, because you're not alone.
Here are some simple tips to help you make those changes stick around for good in your life.
1. Identify how and why you got there in the first place. Did you gain weight because you didn't make time to work out? Because you were turning to food for comfort? WHY did you gain weight to begin with? Identify how you felt before you made the changes and how you feel now. The more aware you are of what brought you to the place you decided change was necessary
2. Find a healthy habit to replace your old one. When you form bad habits, many times it is to fill a void. When you decide to get rid of that bad habit, all you have to do is find a healthy one to take its place.
3. Don't go cold turkey unless you have to. Make small changes in your life and overtime, they will become habits. Those small habits will ultimately lead to big changes. If you must, indulge occasionally but always remember why you made those changes to begin with.
4. Surround yourself with others who support your change. The more you surround yourself with people who encourage and support the changes you are making in your life, the easier it will be to continue making them.
5. Be patient and consistent. Permanent change takes time. You didn't form those bad habits over night so be patient and consistent when you are changing them.
Many people have an 'all or nothing' mentality. They take on too much, too quick and become overwhelmed at staying consistent with the new changes they have made and end up giving up entirely. Hopefully, these tips will help you keep those changes in your life you worked so hard to create. Hopefully, you did not do all that work to make these changes a temporary fix. And once you master these simple tips to make your new changes stick around and stay for GOOD this time… it will change the course of your life.
"Change happens when the pain of staying the same is greater than the pain of change"
By: Jamie Len Cumbo